Pressure Vessel Plate or Boiler Plate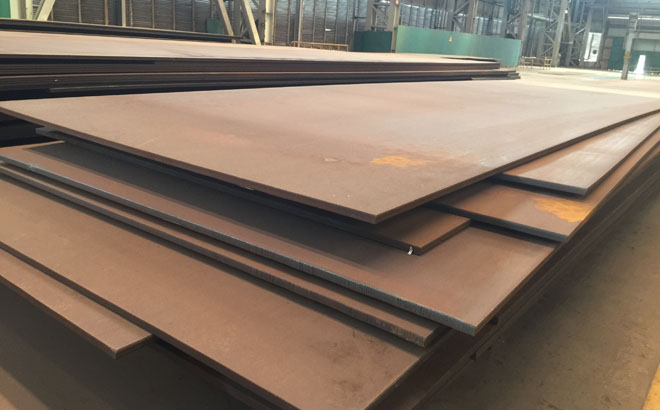 Thickness: From 3 mm to 200 mm
Width: From 2,000 mm to 4,000 mm
Length: Up to 20,000 mm
ASTM A516 Gr. 60/ 65/70
EN 10028-3 P355NH/NL1
BS 1501 223 490B LT30/50
EN 10028-3 P460NH/NL1/NL2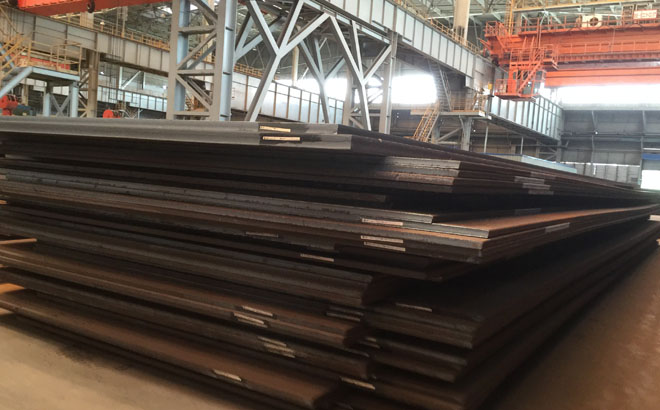 Boiler Plates
Thickness: From 3 mm to 200 mm
Width: 2,000 mm, 2,500 mm, 3,000 mm, 3,450 mm, 3,500 mm, 4,000 mm
Length: Up to 20,000 mm
ASTM A516 Gr. 60/ 65
EN 10028-2 P265GH/NH BS 1501 161 430A/B EN 10207 P265S
As a reliable steel plates supplier and exporter with long history, we are responsible to tell the difference between pressure vessel plates and boiler plates. At ANSON Steel, we make a distinction between boiler plates and pressure vessel plates. Some other steel plate companies class everything as pressure vessel plate: there is no right and wrong about this.
The most important thing to know as a potential customer of ANSON is that we stock and export all of the popular grades of boiler and pressure vessel specifications like ASTM A516, EN 10028-3, and BS 1501. You may call the steel whatever you want and leave us to worry about matching our stocks to your requirements.
Pressure Vessel Plates from Anson
Our pressure vessel plates are sourced from the highest quality steel manufacturers in China and, like our other partners, these manufacturers have been vetted and assessed by our procurement team.
As well as being available from stock all steel plate can be cut to size and shape according to your fabrication and design requirements and all work is governed by our independently accredited and regularly audited quality systems to ISO 9001.
Anson's extensive supply partnerships with many of worldwide leading steel plate distributors offer the opportunity for us to supply non-stock items or non-standard sizes directly from the steel mill to our customers.
Pressure Vessel Plates and Boiler Plates - Comparisons and Equivalents
Equivalant Specifications & Standards
Mechanical Values
BS
EN
ASTM/ASME
DIN
Tensile N/MM²
Yield/min N/mm²
161-360A
P235GH
A 285 GR C
H 1
360/480
235
161-430A
P265GH
A 516-60
H 11
410/530
265
224-400A/B
P275N/NH
-
-
390/510
275
224-460A/B
P295GH
A 516-65
17 MN 4
460/580
295
224-490A/B
P355GH
A 516-70
-
510/650
355
225-460A/B
P355N/NH
-
19 MN 6
490/630
355
243
16 M03
A 204 GR A
15 MO 3
440/590
275
620B
13CRM045
A 387-11-2
13 CRM 044
450/600
300
621B
-
A 387-11-2
-
515/690
340
622-51B
10/11CRM0910
A 387-11-2
10 CRM 0910
520/630
310
Chemical Composition Maximum
BS
C
Si
Mn
P
S
AI
Cr
Cu
Ni
Mo
Nb
Ti
V
161-360A
0.16
0.35
0.40/1.20
0.030
0.025
0.020
0.30
0.30
0.30
0.08
0.01
0.03
0.02
161-430A
0.20
0.40
0.50/1.40
0.030
0.025
0.020
0.30
0.30
0.30
0.08
0.01
0.03
0.02
224-400A/B
0.18
0.40
0.50/1.40
0.030
0.025
0.020
0.30
0.30
0.50
0.08
0.05
0.03
0.05
224-460A/B
0.08/0.20
0.40
0.90/1.50
0.030
0.025
0.020
0.30
0.30
0.30
0.08
0.01
0.03
0.02
225-490A/B
0.10/0.22
0.60
1.00/1.70
0.030
0.025
0.020
0.30
0.30
0.30
0.08
0.01
0.03
0.02
225-460A/B
0.20
0.50
0.90/1.70
0.030
0.025
0.020
0.30
0.30
0.50
0.08
0.05
0.03
0.10
243
0.12/0.20
0.35
0.40/0.90
0.030
0.025
-
0.30
0.30
0.30
0.25/0.35
-
-
-
620B
0.08/0.18
0.35
0.40/1.00
0.030
0.025
-
0.70/1.15
0.30
-
0.40/0.60
-
-
-
621B
0.09/0.17
0.50/0.80
0.50/0.80
0.025
0.015
0.020
1.00/1.50
0.30
0.30
0.45/0.60
-
-
-
622-51B
0.08/0.14
0.50
0.50
0.030
0.025
-
2.00/2.50
0.30
-
0.90/1.10
-
-
-
Get In touch with