Cor-Ten B weathering steel plate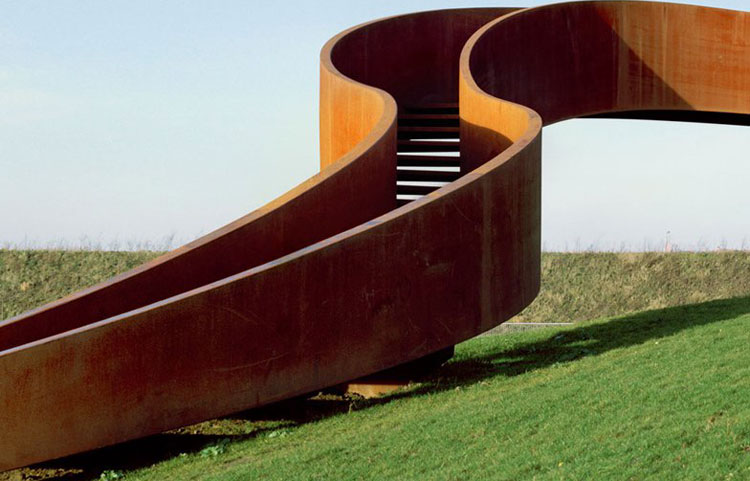 Weathering Steel COR-TEN with high tensile strength has overcome rust, which is the weakest point of steel, in a unique manner, by actually using rust. Click here to learn about Cor-Ten A.
When COR-TEN with bare specifications is left in the atmosphere, rust occurs first in the same way as ordinary steel, but dense protective rust forms on the surface of the steel due to the action of the alloy element over time, inhibiting the later development of further rust.
Since COR-TEN B has excellent weather resistance, it can be used without any coating. It provides not only the economic effect of a reduction of re-coating cost, but an aesthetic effect with sedate color of protective rust.
Coating property
The coating film has a long life, and the recoating cost can be reduced.
Weldability
Welding is easy using any method of manual welding or submerged arc welding, etc.
Spot welding is also possible for thin materials.
Workability
COR-TEN can be subjected to cold working, hot working, and gas cutting in a similar way as ordinary steel with the same strength level.
COR-TEN B exhibits a yellowish appearance in the initial stage of use, and the color gradually changes to brown. Then, as it sits in its surrounding environment, the color changes to a sedate blackish brown in one to two years. Then, the color changes very little once again, but only to a deep brown.
Weathering steel, best-known under the trademark CORTEN B steel and sometimes written without the hyphen as "CORTEN B steel", is a group of steel alloys which were developed to obviate the need for painting, and form a stable rust-like appearance if exposed to the weather for several years.
Chemical Composition (%) of Corten B Steel
| | | | | | | | | |
| --- | --- | --- | --- | --- | --- | --- | --- | --- |
| C max | Si | Mn. | P | S max | Cr | Ni | Cu | V |
| 0.16 | 0.30-0.50 | 0.80-1.25 | 0.030 | 0.030 | 0.40-0.65 | 0.40 | 0.25-0.40 | 0.02- 0.10 |
Mechanical Properties of Corten B Steel
Thickness (mm)
Plate Products
Yield Strength
Tensile Strength
Elongation
Rel N/mm²
Rm N/mm²
A50 %
Strip Products
Minimum
Minimum
Minimum
2 – 13
6 – 40
345
485
19
Equivalent Grades of Corten B Steel
| | | | | | | | |
| --- | --- | --- | --- | --- | --- | --- | --- |
| Material # | EN 10155 | SEW 087 | NFA 35-502 | UNI | BS 4360 | ASTM | JIS G3114 |
| 1.8961 | S235J2W | WTSt 37-3 | E 24 W 4 | Fe 360 DK 1 | - | - | - |
| 1.8945 | S355J0WP | E 36 WA 3 | Fe 510 C1K1 | WR 50 A | - | - | - |
| 1.8946 | S355J2WP | - | E 36 WA 4 | Fe 510 D1K1 | - | A 242 Type 1 | - |
| 1.8959 | S355J0W | - | E 36 WB 3 | Fe 510 C2K1 | WR 50 B | A 588 – A 242 Gr. 1 | SMA 50 AW |
| 1.8963 | S355J2G1W | WTSt 52-3 | - | Fe 510 D2K1 | WR 50 C | A 588 Gr. A | to |
| 1.8965 | S355J2G2W | - | - | - | - | - | SMA 50 CP |
| 1.8966 | S355K2G1W | - | E 36 WB 4 | - | - | A 709 Gr. 50 W | - |
| 1.8967 | S355K2G2W | - | - | - | - | - | - |
Get In touch with