Cor-Ten steel plate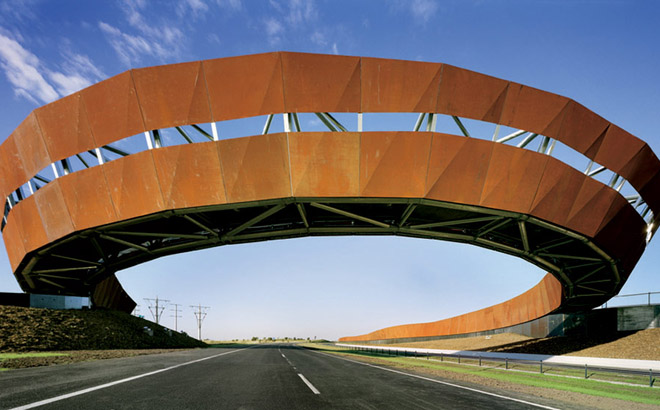 COR-TEN has served as weathering steel (atmospheric corrosion- resistant steel). Corten steel plate has successfully overcome rust, steel's most weakest. When exposed to the atmosphere without painting, corten steel begins to rust in the same way as ordinary steel. BUT soon the alloying elements in COR-TEN cause a protective surface layer of the fine-textured rust to form, thereby suppressing corrosion rate. Since its development in 1993, the COR-TEN has been used in every field where steel applied, such as bridges, railway vehicle and buildings. At present, COR-TEN are attracting attention as being suited for resources and environmental concerns as well as reducing life-cycle costs.
Features of COR-TEN
Thanks to high weather resistance, corten steel can be used without painting. Unpainted applications are not only offer the economic advantage of reducing repainting costs; they also offer aesthetic benefits associated with the calming color of the protective rust.
COR-TEN is paintable in the same way as ordinary steel. In addition, even if a painting defect should occur, COR-TEN suppresses the progress of rust area and prolongs the services life of paint, thereby reducing repainting costs.
While trace amounts of alloying elements such as copper (Cu) and chromate (Cr) are added to COR-TEN to ensure high weather resistance, the carbon content is lowered to provide appropriate weldability. Accordingly, COR-TEN can be welded using either manual, gas-shield or submerged arc welding.
COR-TEN possesses workability similar to ordinary steels of same strength.
Since 1959 when COR-TEN began to be marked, more than 4.8 million tons of this material have been produced. (2015 end)
Unpainted use of Cor-Ten
The unpainted application of corten steel not only offer economic advantages but also demonstrates excellent aesthetic properties. Because of this, COR-TEN is applied in a wide range of fields such as buildings and monuments. COR-TEN can be applied without painting-in a bare state, thus reducing the cost of repainting and other repairs. However, some of our clients have expressed their concerns during the first year or two then the protective lay of fine-textured rust is forming. In order to solve these concerns, supplementary rust stabilization treatment was developed.
Painted use of Cor-Ten
When COR-TEN is painted, the required number of times that repainting must be conducted can be reduced. This advantage is believed to result from the fact that, even when corrosion in the base metal due to defects in the panted film or to pinholes, the corrosion progresses slowly and thus the occurrence of blistering and peeling of the paint film is reduced. By making the most of this advantage. COR-TEN is applied in every field where steel is used-ranging from buildings to railway vehicle, marine containers, storage tanks, industrial machinery and bridges.
ASTM Corten A Chemical Composition
Grade
C Max
SI
Mn
S Max
Cr
Ni
Cu
Nb
Nb+V=Ti
Corten A
0.12
0.25-0.75
0.20-0.50
0.07-0.15
0.030
0.50-1.25
0.65
0.25-0.55
-
ASTM Corten A Mechanical Properties
Grade
Permissible yield point
ratio
Yield Strength
MPa(min)
Tensile Strength
MPa
Elongation
% (min)
Bend
Corten A
-
355
470-630
20
1t
Corten A Weathering Steel Parameters
Recommended Bending Radius without Special Requirments
Thickness mm
2-3
4
5
6
7
8
10
12
Radius mm
4
8
10
12
21
24
30
36
ASTM Corten B Chemical Composition
Grade/ Material
Element
Composition( Max-A, Min-I)
Corten B
C
A: 0.19
Mn
0.30-0.65
Si
0.80-0.25
P
A:0.035
S
A:0.030
Al
0.020-0.06
V
0.02-0.10
Cu
0.25-0.40
Cr
0.40-0.65
Ni
0.40
ASTM Corten B Mechanical Properties
Grade/Material
Tensile Test
Ksi/MPa
Corten B
Tensile Strength
I:485
Yield Strength
I:345
Elongation
19%
Impact Test(if any)
Get In touch with