S355JR steel plate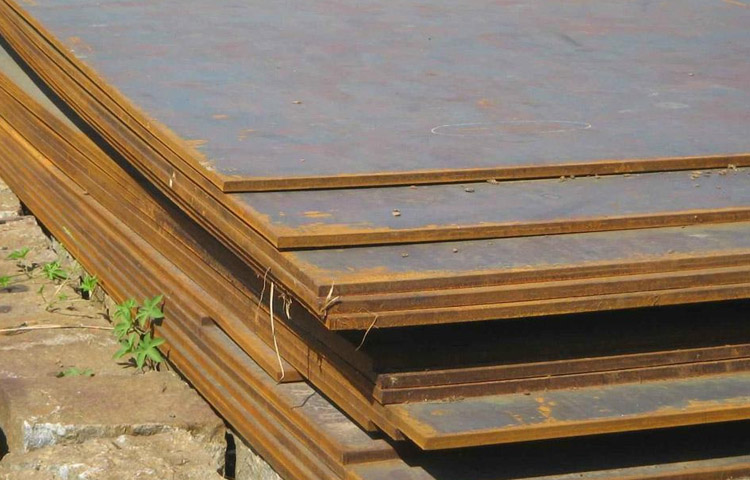 S335JR - an useful structural grade steel with a minimum yield strength of 355 N/mm². S355 being widely used in the structural engineering and construction industries, S355 offers high yield and tensile strength and is supplied with a variety of treatments and test options to ensure that it is a highly usable steel in your various projects.
S355 structural grade (S) carries minimum yield strength of 355 N/mm²m, the JR designation confirms that the steel has undergone longitudinal Chary V-Notch impact testing at 27J (Joules) at room temperature. Other Charpy designations include J0, J2 and K2.
These grades of steel are intended for structural work where no significant forming or bending must be done. These grades can be bolted,riveted and welded in a full range of structural and fabricated items including bridges, box girders, cranes and other general structural projects.
The grade designations of SANS 50025 / EN10025-2 refer to the minimum yield strength of each grade for thicknesses less than or equalto 16mm. The steel should be selected in accordance with the strength requirements.The JR, J0 & J2 suffixes refer to different impact requirements. An average impact energy value of 27 Joules must be achieved on full size specimens in the longitudinal direction in all applicable cases.
Chemical Composition(max %) of S355JR
Grade
Max C content for t in mm
Mn max
Si max
P max
S max
Cu max
N max
t ≤ 16
>16 t ≤
t >40
S275JR
0.21
0.21
0.22
1.5
-
0.035
0.035
0.55
0.012
S355JR
0.24
0.24
0.24
1.6
0.55
0.035
0.035
0.55
0.012
S355JO
0.20
0.20
0.22
1.6
0.55
0.035
0.035
0.55
0.012
Mechanical Properties of S355JR
Grade
Yield (MPa)min
Tensile (MPa)min
Charpy V - notch longitudinal
Strength at t = 16mm
Temp ( °C)
Energy (J) t =16mm
S275JR
275
410/560
20
27
S355JR
355
470/630
20
27
S355JO
355
470/630
0
27
Grade
Thickness (mm)
Min Yield (Mpa)
Tensile (Mpa)
Elongation (%)
Min Impact Energy
S355JR
8mm-100mm
315Mpa-355Mpa
450-630Mpa
18-20%
20
27J
101mm-200mm
285-295Mpa
450-600Mpa
18%
20
27J
201mm-400mm
275Mpa
-
17%
20
27J
S355 JR Steel Plate Grade and Specification:
Thickness: 1-200mm
Width: 1000-1500mm
Length: 1000-12000mm
Standard: EN 10025-2:2004
Technique:Hot Rolled
Steel Number:1.0045
Export To:Saudi arabia, Kuwait, Qatar, Oman, Yemen, UAE, Iran, Turkey, Kazakhstan, Greece, Singapore, Thailand, Indonesia, Vietnam, South Africa,South America,Brazil, India, Australia, Egypt.
Get In touch with