310 stainless steel plate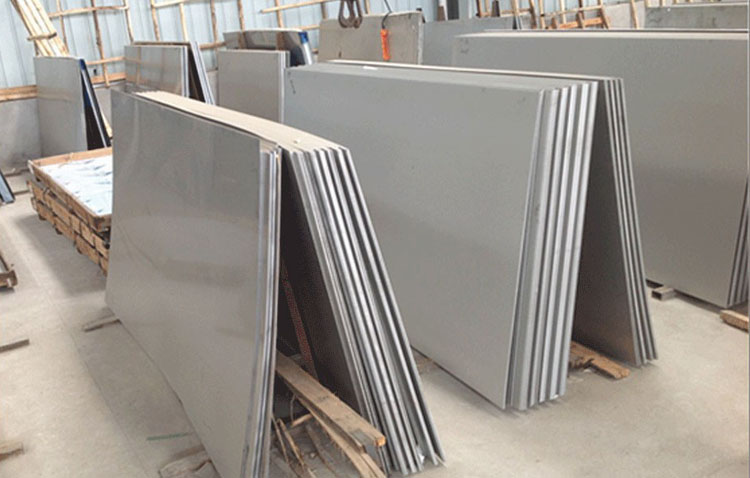 Chemical Composition (%) of 310 Stainless Steel Plate
| | | | | | | | | |
| --- | --- | --- | --- | --- | --- | --- | --- | --- |
| Cr | Ni | C | Si | Mn | P | S | Mo | Cu |
| 24.0 -26.0 | 19.0-22.0 | 0.25 | 0.75 | 2.0 | 0.045 | 0.030 | 0.75 | 0.5 |
Mechanical Properties of 310 Stainless Steel Plate
| | | | | |
| --- | --- | --- | --- | --- |
| Tensile Strengtd ksi (min.) | Yield Strength 0.2% Offset ksi (min.) | Elongation - % in 50 mm (min.) | Hardness (Brinell) MAX | Hardness (Rockwell B) MAX |
| 75 | 30 | 40 | 217 | 95 |
Alloy 310 is an austenitic stainless steel that combines excellent high temperature properties with good ductility and weldability. It is typically used for elevated temperature applications as its high chromium and nickel content provide solid corrosion resistance, excellent resistance to oxidation, and superior strength in temperatures up to 2100°F. Due to its high chromium and nickel content, it is superior to 304 or 309 stainless in most environments.
Alloy 310 Coils can also be used for welding air hardening steels such as armour plate and for welding base metals of unknown composition, as well as dissimilar metals. In intermittent service, 310 Stainless Steel Sheets can be used at temperatures up to 1030 Degree C as it resists scaling and has a relatively low coefficient of expansion.
If you are interested in other Stainless Steel Plates/Sheets, please click 302, 303, 304, 304L, 304H, 309, 309S, 310, 310S, 310H, 316, 316L, 317/317L, 317LMN, 321, 321H, 330, 347, 347H, 904L, 403, 405, 409, 410, 410S, 410/HT, 416, 416HT, 420, 422, 430, 440C, Duplex 2205, Duplex 2304, Duplex 2507.

Get In touch with