430 stainless steel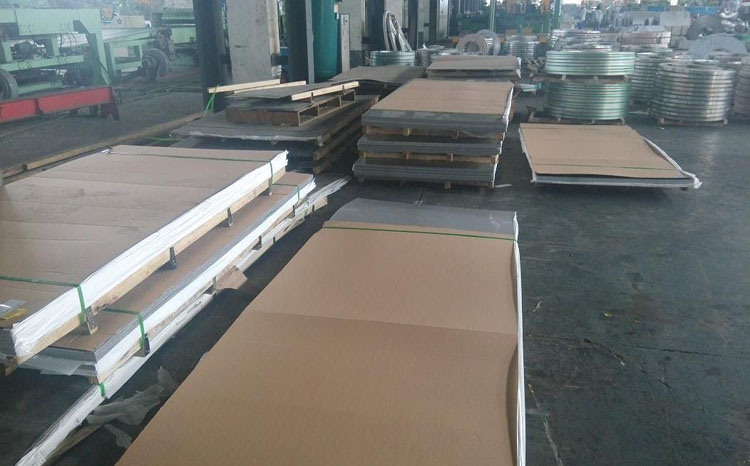 | | | | | | | | | | |
| --- | --- | --- | --- | --- | --- | --- | --- | --- | --- |
| Grade | C | Mn | Si | P | S | Cr | Mo | Ni | N |
| 430 | 0.12 | 1.00 | 1.00 | 0.040 | 0.030 | 16.0-18.0 | - | 0.75 | - |
| 430F | 0.12 | 1.25 | 1.00 | 0.06 | 0.15 | 16.0-18.0 | - | - | - |
Mechanical Properties of 430 Stainless Steel Plate
Grade
Tensile Strength (MPa) min
Yield Strength 0.2% Proof (MPa) min
Elongation (% in 50mm) min
Hardness
Rockwell B (HR B) max
Brinell (HB) max
430
450
205
22
89
183
430F
552 typical
379 typical
25 typical
-
262
Physical Properties of 430 Stainless Steel Plate
Grade
Density (kg/m3)
Elastic Modulus (GPa)
Mean Coefficient of Thermal Expansion
(mm/m/°C)
Thermal Conductivity
(W/m.K)
Specific Heat 0-100°C (J/kg.K)
Electrical Resistivity (nW.m)
0-100°C
0-315°C
0-538°C
at 100°C
at 500°C
430
7750
200
10.4
11.0
11.4
23.9
26.0
460
600
430F
7750
200
10.4
11.0
11.4
26.1
26.3
460
600
430 is a ferritic, straight chromium, non-hardenable grade, combining good corrosion resistance and formability characteristics with useful mechanical properties. Its ability to resist nitric acid attack permits its use in specific chemical applications but automotive trim and appliance components represents its largest fields of application.
430F is the free-machining version of this grade, available in bar form for use in automatic screw machines. Grade 434 is the molybdenum bearing version of Grade 430 and has the same useful combination of properties. Its molybdenum addition improves corrosion resistance.
These properties for 430 are specified for flat rolled product (plate, sheet and coil) in ASTM A240/A240M. Similar but not necessarily identical properties are specified for other products such as forgings and bar in their respective specifications. Properties of Grade 430F are specified for bar in ASTM A582.
If you are interested in other Stainless Steel Plates/Sheets, please click 302, 303, 304, 304L, 304H, 309, 309S, 310, 310S, 310H, 316, 316L, 317/317L, 317LMN, 321, 321H, 330, 347, 347H, 904L, 403, 405, 409, 410, 410S, 410/HT, 416, 416HT, 420, 422, 430, 440C, Duplex 2205, Duplex 2304, Duplex 2507.
Get In touch with