347 stainless steel plate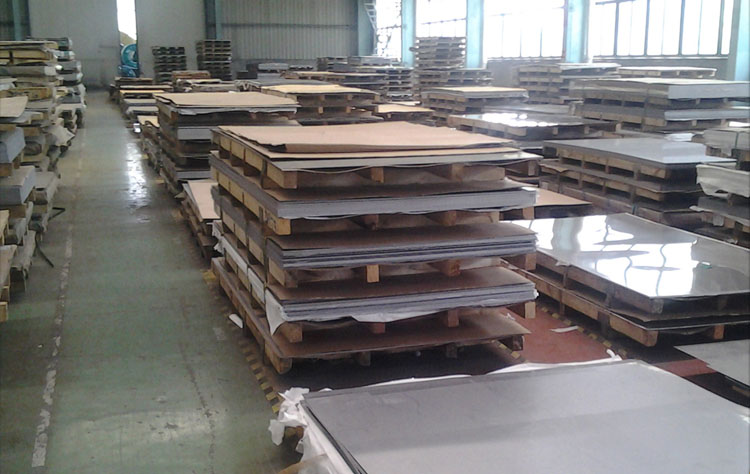 Chemical Composition (%) of 347 Stainless Steel Plate
| | | | | | | | |
| --- | --- | --- | --- | --- | --- | --- | --- |
| Chromium | Nickel | Carbon | Silicon | Manganese | Phosphorus | Sulfur | Nitrogen |
| 17.00-19.00 | 9.00-13.00 | 0.08 max | 0.75 | 2.00 max | 0.045 max | 0.03 max | - |
Mechanical Properties of 347 Stainless Steel Plate
Yield Strength 0.2% Offset
Ultimate Tensile Strength
Elongationin 2 in.
Hardness
psi (min.)
(MPa)
psi (min.)
(MPa)
% (min.)
(max.)
30,000
205
75,000
515
40
201 Brinell
Physical Properties of 347 Stainless Steel Plate
Density (lb. / cu. in.)
Specific Gravity
Specific Heat (Btu/lb Deg F – [32-212 Deg F])
Melting Range
Modulus of Elasticity
0.288
7.96
0.12
2550 – 2635°F
28.0 x 106psi
193 GPa
Type 347 is a stabilized austenitic stainless steel similar to type 304 with an addition of Columbium and Tantalum. The columbium serves to produce a stabilized type of stainless steel which is immune to chromium carbide precipitation. This type of grades are thus recommended for parts fabricated by welding which cannot be susequently annealed or for parts which must operate in service between 800 – 1600°F.
Alloy 347 stainless steel plate exhibits good general corrosion resistance that is comparable to 304. It was developed for use in the chromium carbide precipitation range of 800 – 1600°F (427 – 816°C) where un-stabilized alloys such as 304 are subject to intergranular attack. In this temperature range, the overall corrosion resistance of Alloy 347 stainless steel plate is superior to Alloy 321 stainless steel plate. Alloy 347 also performs somewhat better than Alloy 321 in strongly oxidizing environments up to 1600°F (816°C).
If you are interested in other Stainless Steel Plates/Sheets, please click 302, 303, 304, 304L, 304H, 309, 309S, 310, 310S, 310H, 316, 316L, 317/317L, 317LMN, 321, 321H, 330, 347, 347H, 904L, 403, 405, 409, 410, 410S, 410/HT, 416, 416HT, 420, 422, 430, 440C, Duplex 2205, Duplex 2304, Duplex 2507.
Get In touch with