steel plate rolling
Our rolling capacity ranges from 750 tons to 2000 tons with lengths from 10 feet through 40 feet, providing unparalleled forming capability. Skilled craftsman and the integration of CNC controllers, advanced gauging and hydraulics ensure accuracy of parts.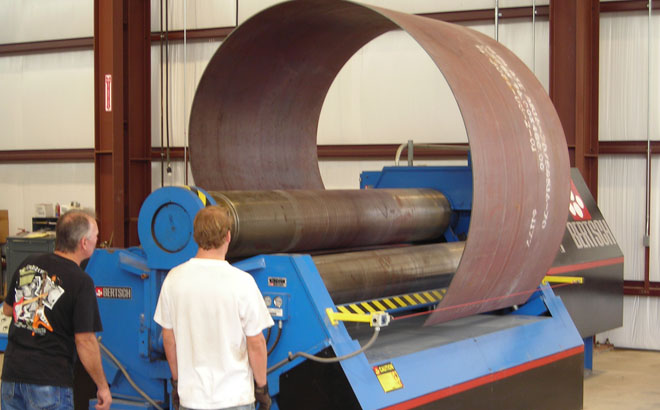 We have developed synergistic relationships with the highest quality plate bending shops in the Huston area. These relationships allow us to offer notably competitive prices on the highest quality formed components.
Our rolling machines enable us to roll plate shells into shells specifically for tanks, rolled rings, eccentric cones, concentric cones, and repads. These rolled products can be fabricated from our own plate inventory or from customer supplied material.
Dimensional Rolling Capabilities:
Min. Diameter: 16" (406 mm) I.D.
Max Thickness: cold rolled 2.75; hot rolled 4"
Max Length: 144" (3,658 mm)
Thicker plate available as lengths decrease and diameters increase.

We are capable of rolling up to 40 foot length plate of 50,000 yield to the following dimensions, taking 12 foot as an example:
| Full Length | Max Thk | Diameter |
| --- | --- | --- |
| 12' | 2.25" | 122" |
| 12' | 1.75" | 32" |
| 10' | 1.75" | 32" |
| 8' | 2.00" | 32" |
Difference Between Hot Rolled Steel and Cold Rolled Steel:
ANSON Steel provides information on different types of plate rolling processes which can also be divided in to hot and cold rolling process.
Hot rolling is a mill process which involves rolling the steel at a high temperature (typically at a temperature over 1700° F), which is above the steel's re-crystallization temperature. When steel is above the re-crystallization temperature, it can be shaped and formed easily, and the steel can be made in much larger sizes. Hot rolled steel is typically cheaper than cold rolled steel due to the fact that it is often manufactured without any delays in the process, and therefore the reheating of the steel is not required (as it is with cold rolled). When the steel cools off it will shrink slightly thus giving less control on the size and shape of the finished product when compared to cold rolled.
Cold rolled steel is essentially hot rolled steel that has had further processing. The steel is processed further in cold reduction mills, where the material is cooled followed by annealing and/or tempers rolling. This process will produce steel with closer dimensional tolerances and a wider range of surface finishes. The term cold rolled is mistakenly used on all products, when actually the product name refers to the rolling of flat rolled sheet and coil products.
All cold products provide a superior surface finish, and are superior in tolerance, concentricity, and straightness when compared to hot rolled.
Cold finished bars are typically harder to work with than hot rolled due to the increased carbon content. However, this cannot be said about cold rolled sheet and hot rolled sheet. With these two products, the cold rolled product has low carbon content and it is typically annealed, making it softer than hot rolled sheet.
Get In touch with